Shocks & Strut Service Koons Woodbridge Hyundai
Fairfax, VA drivers in the Woodbridge area looking for a service team to handle strut and shock repair can count on our service team! The Koons Woodbridge Hyundai service team is proud to provide the greater Fairfax, VA area with professional, reliable car service! Our team of professionals takes pride in every service opportunity. Whether it be simple oil changes or a more involved strut and shock servicing, Washington, DC drivers can look to the Koons Woodbridge Hyundai team for assistance!

Shock and Strut Service Alexandria, VA
Wondering how you can tell whether your vehicle may require strut and shock servicing? Chantilly drivers can look for two primary symptoms of a damaged shock and strut system: a lurching front end (when you hit the brakes) and extensive bouncing when going over a bump or pothole. What do we mean by a lurching front end? If your vehicle excessively launches forward when you are coming to a stop, it most likely is a sign that your struts or shocks are in disrepair. The other main symptom (bouncing after going over a pothole or bump) usually is indicative or your shocks being in less than ideal condition. Granted, the above-mentioned symptoms are quite extreme cases! Ensure that your vehicle never reaches such a precarious state; schedule a shock and strut service appointment with the Koons Woodbridge Hyundai service team!
Hyundai Shocks and Struts Service
While we're a Hyundai dealership and take pride in having technical expertise in the Hyundai realm, it's not the only brand of vehicle we'll service! Indeed, our service team is prepared to service nearly any and all makes and models! Ensure that your vehicle is prepared to take on roads from Chantilly to Washington, DC (and beyond) for miles to come - choose Koons Woodbridge Hyundai for your vehicle service needs!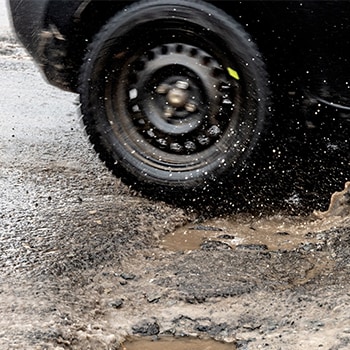 We're sorry, we do not currently have any specials published. Please check back soon or contact us for more information.